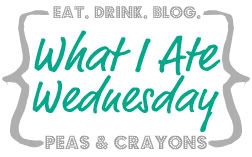 Though technically not correct. Just reflecting on some of the yummy stuff I've had recently. Lots of new stuff for me!
Ethiopian Millet, Mushroom Tibs and Sauteed Collards. From the amazing Isa. Let me warn you that the mushrooms were SUPER spicy! Even for this spice loving chick. There are a bajillion spices in this dish, but I absolutely loved it! Made it again already and pulled the curry powder. Just as yum with some heat, but that simple fix made it something I will definitely be making regularly - COMFORT food!!
Larabar Sale!!!! New flavors for me including Lemon?!. And the cookie dough. Craaazy good.
Sweet and Spicy Dates! It's not too late to hop on board the Meatless Monday A-Z train! Go check out Heather's blog for more Date recipes! Next week is edamame!
Salad with hummus for dressing - not new, but always seems like an indulgence.
Artichoke!! with some leftover Ethiopian millet. What an adventure to clean one of these lovelies!
Green Tea Kombucha. I am still getting use to green tea. Liked this one - clean, refreshing, and it makes me feel good about myself!
Fro-yo!! I may be the last person on the earth that had not had fro-yo. Well at least in my suburb. A new Smart Cow store opened at the beginning of summer, the only fro-yo place around, and you would have thought there was money at the bottom of each cup. Its has been PACKED. And our girlies have been pleading with us to go. I had a vanilla bean with sea salt caramel pretzel, (aka fro-yo crack) and strawberries - oh my yum! and I am addicted!
Falafel, another Isa recipe. It was my first try making homemade falafel. They were great - but seriously I think I would eat anything chickpea based - addicting!
Gala Apple Salad with Shittake Vinagrette, Feta and Almonds - oh joy!